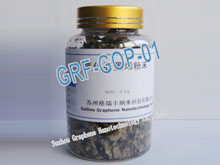 Graphene Oxide Powder.pdf
1. Product name and code

Name:Graphene oxide powder
Code:GRF-GOP-01
Standard:100mg, 500mg, 1g, 5g, 10g
2. Product parameters


Parameters
Unit
Typical values
Carbon content
%
~ 60
Oxygen content
%
~ 40
Layer size
μm*μm
~60*60
Layers

Layer
层
~1-2 (Sonication for 2 h)
3. Application areas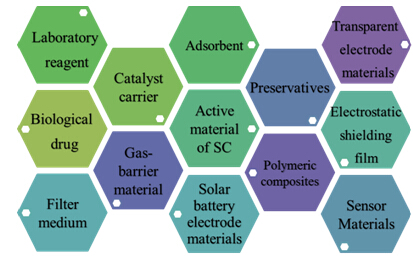 4. Produt characterizations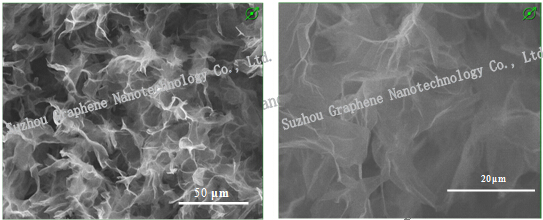 Figure 1. SEM images of graphene oxide powder (non-sonication).

Figure 2. XRD spectrum (left) and Raman spectrum (right) of graphene oxide powder.
5. Instructions for use

  The products can be well dispersed stable in water and other solvents with different concentration via simple stir or sonication. Meanwhile, the solubility and new characteristic of the products can be also improved by functional processing.


6. Product packaging, storage and transportation

  1) Packaging: Be packed in plastic bottles or barrels.
  2) Storage: Cool and well-ventilated place in tightly-closed containers, away from poisonous and harmful gases, volatile substances and other pollution sources and protect against ignition or heat.
  3) Transportation: Avoid exposure to sunlight, rain and extreme heat. Mixed loading and mixed transportation with corrosive materials, oxidizing agents, acids etc. are strictly prohibited.